Liberating holidays for gardening enthusiasts

🥳
It's the

best deal of the whole year,

You

will not

get such low price

again!
Add to cart to get great prices and don't forget to buy one for your friends too! 😊
---
This is the on-the-go watering solution!
Are you worried about watering your plants during the holidays?
With this automatic watering system, you can leave worry-free.
Try this product to control water flow. Insert the plastic part into the ground. Pour a bottle of water over that part. Regulate the irrigation water through the valve. It can continuously water your plants for nearly fifteen days.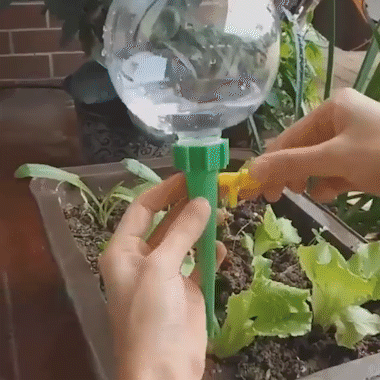 DESCRIPTION:
This automatic watering system ensure your plants green and lush.

This system helps you grow your plants scientifically and ensure plant health.

The speed of the sprinklers during the holidays is adjustable with the valve.

The sprinkler tip is compatible with most plastic bottles with a diameter of 2.75 cm. It is very ecological.
USE:
Insert the valve into the sprinkler tip.

Cut the bottom of the bottle.

Fill the bottle with water.

Turn the knob to adjust the flow.
FEATURES:
Color: Blue, Green
Material: high quality PP

Specifications: 3.5*13.5cm

Weight: 9g
SHIPPING⭐
We ship

to

worldwide.

Standard shipping normally takes

7-15 business days

(excluding weekends).
If your order is not delivered by the estimated delivery time, please

contact our friendly customer

service for further assistance!
OUR GUARANTEE👏
We take pride in our products as we

believe they are amazing.

However, we understand that there might be some doubts during the process of purchasing online, especially for the first time, so

we guarantee fot 100% satisfaction.

If there's anything that brings unpleasant experience during the whole process, we will

do whatever it takes to adjust it.

Please send description of problems that you may have and contact us at support@survalue.com. There'll be our specialist to help you with a solution.