MAKES GETTING ON THE ROOF EASY: This is like a mini ladder with the foot peg. Helps anyone to get on the roof with ease. Makes loading and unloaded your roof rack faster. Roof boxes, kayaks, canoes, skis, snowboards, bikes, SUP. Makes your life easier! Easy to wash the roof of your car or truck. Loading sporting goods and outdoor gear will never be so easy!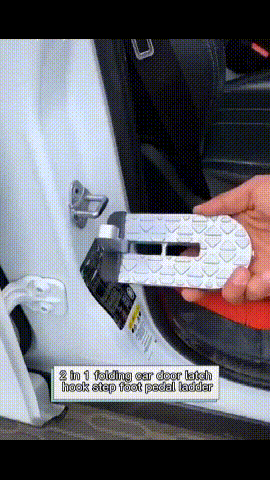 YOU AND YOUR VEHICLE WILL BE SAFE: Car step pedal is made of high-quality aluminum alloy. Aluminum is strong and lightweight. Strong enough to support up to 400lbs. Platform is ergonomically made to support one or two feet on it. Rubber backing to protect your vehicle paint from scratching. Folding designs takes up less storage space to put in any vehicle. Will not damage your door or door latch
FOLDABLE AND ANTI-SKID: The step is textured to provide a non-slip surface when you are climbing up the step. Folds up to a small size to be stored in your vehicle for when you need it.
EASY TO USE: Simply open any of your car or truck doors and hook it onto your vehicle's door latch. The rubber on the back will not damage your door or latch. This is a great replacement for a ladder or stool to access the roof
Specifications:
Color:Black,Orange,White
Material:Aluminum
Exterior Finish:Aluminum
Thank you for being one of our valued customers!!!